Why Use Texting SMS Marketing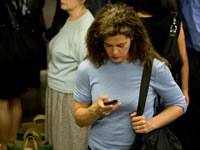 Text message marketing is an easy, cost-effective way to drive more business. With open rates greater than 95% and response rates up to 10x greater than email what are you waiting for?
Great SMS Marketing Features
Text-2-Vote
Text-2-Win
Text-2-Join
Text Special Offers
Texting`s SMS marketing platform is as powerful as it is easy to use. Launching an SMS marketing campaign should not be difficult. While marketing pros will enjoy the extensive feature set that our mass texting services offers, our intuititve web-based software is a breeze for anyone to use. Whether you want to promote your business, run text-2-join campaigns, polls and contests, or get in touch with all of your contacts at once, our Group Text Messaging service allows you to do so quickly and easily.